Jackpot!
The Hater Nation likes to observe idiots, so we spend a lot of time on Raiders message boards. It's funny that you always seem to think of Raiders fans as cartoon characters; something fictional. It's a little disturbing to think that people like this actually exist.
And it's downright frightening when you see pictures.
Good sense and common decency would dictate that we don't reprint the pictures here. But as Keanu Reeves said in
The Replacements
, "That's just not our style."
We give you...
THE RAIDERS GALLERY
Here's a handsome couple.
.
What is the photographer that snapped this photograph thinking? Odds are he or she changed vocations moments after this photo session commenced.
Is that lady his wife or his mother? (HE probably still lives in her basement.)
But look at this guy. Nothing says poser more than that "wannabe badass" look he has on his face. The only reason this guy ever became a Raiders fan is so he could act like a hoodlum; on Sundays at least.
You have to love a man that is not afraid to wear a porn mustache in public. Is he not tough enough to go with the goatee? And Abner Goldstein called... He wants his glasses back.
He's also going for that tough guy/grabbing the crotch type of thing, but he can't quite seem to pull it off. Seriously, this guy must have got his ass kicked every day in school. Maybe it hasn't stopped.
Why do you put this picture on the Internet? Why, why, why?
A RAIDER ROOM
.
How old is the person that lives in this room? Ten? Twelve? Try 48.
And notice the cross above the door way? It's funny because most prison cells contain a cross, too.
ANOTHER FAMILY PORTRAIT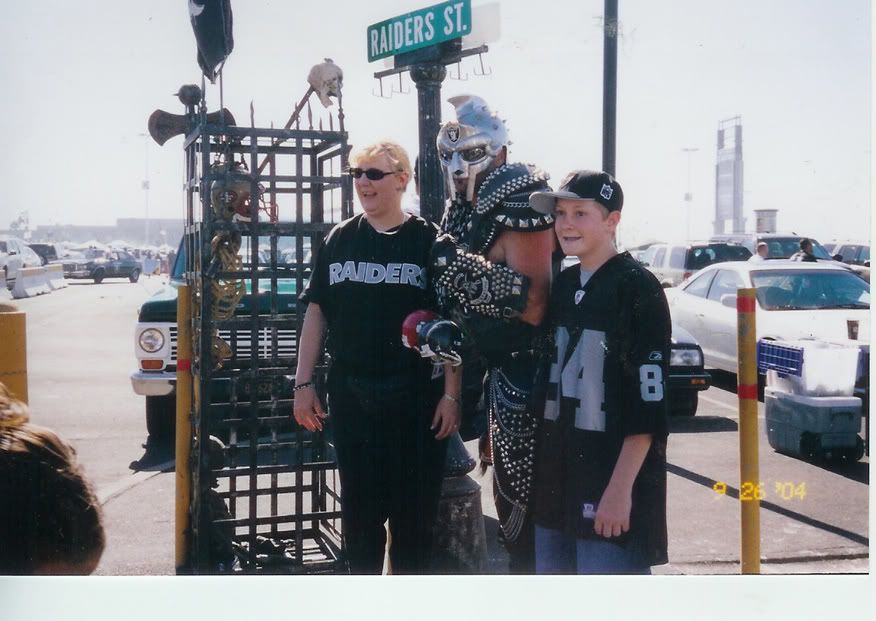 .
This is the first time that the young boy finally got to meet his father.
That lady might not be a looker now, but she bedded Darryl Lamonica and Ken Stabler in her prime.
RAIDERS GIRLS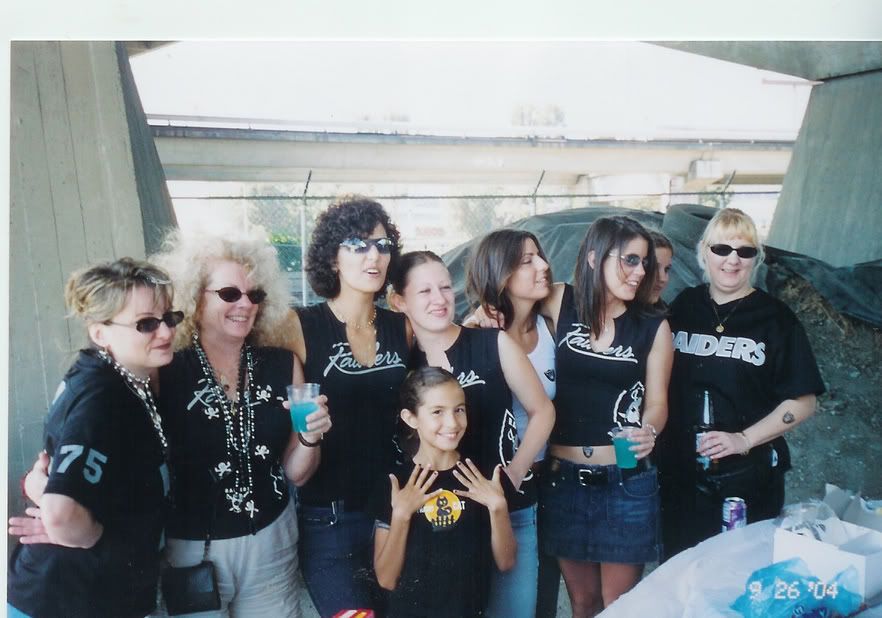 .
Raiderette tryouts were a little thin this season.
We won't have to worry about Raiders fans reproducing with broads like these.
If somebody put a gun to your head and told you that you had to have sex with one of them, most men would ask, "How many bullets are in the gun?"
Hey look, it's desperate Raiders house wives. At least the desperate part is right.
I guess guys can't be too choosy when the get out of the joint.
These are the kind of girls your are left with if you wait until closing time to hook up.
SOMBRERO RAIDER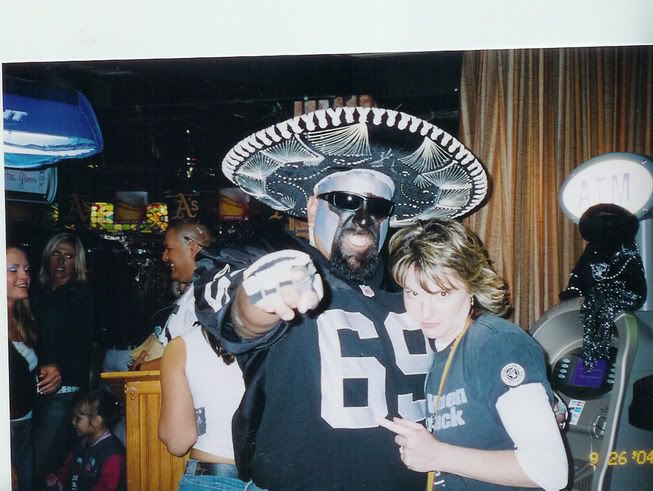 .
Don't you hate it when your dad embarrasses you in public?
Sadly, the Raiders bimbo in the background (on the left) is wearing more makeup than the guy.
SCOTTISH RAIDER
.
The guy in the middle is from Scotland. That means nobody in this picture paid for a beer. The guy to the immediate right of the Scot looks like an a tall dwarf.
Ben Davidson (second from left) sure has let himself go.
Hey, they can't all be gems.
BAD BOYS
.
It never fails. Every episode of cops shows at least one suspect with his shirt off.
GROUP SHOT
.
Somebody call America's Most Wanted... I found them all!
HEY FUN BOYS, GET A ROOM
.
These two spent the better part of Sunday debating who was the best Raider of all-time... They made out an hour later.
COOL TAT
.
.
We've often felt that idiots should brand themselves. These guys obviously agree.
AND SHE'S SINGLE
.
This is for anybody who ever wondered what became of Joyce DeWitt.
The hottest chicks always have that Peter Brady hairstyle.
She's yours for a box of Franzia or a six-pack of Pabst.
GOOD ROLE MODELS FOR THE CHILDREN
.
You think we're making this stuff up about Raiders fans. But what other parents would allow their child to hold up that shirt and flip off a camera? Can we report this to Child Services?
That little boy has likely already stabbed a Chargers fan.
A RAIDERS FANS AND HIS DOLLS
.
Don't laugh, he made that in prison out of potatos.
He might play with dolls, but he'd still shank you in the neck for rooting for the Chargers.
COME UP WITH YOUR OWN
Feel free to add your own suggestions. You won't win anything, but it should keep you busy this week. If you want, you can email at the_haternation@yahoo.com.